Amelia Marzec is an artist working with new media, installation, sound art, and performance.
what's new
Exhibition info below.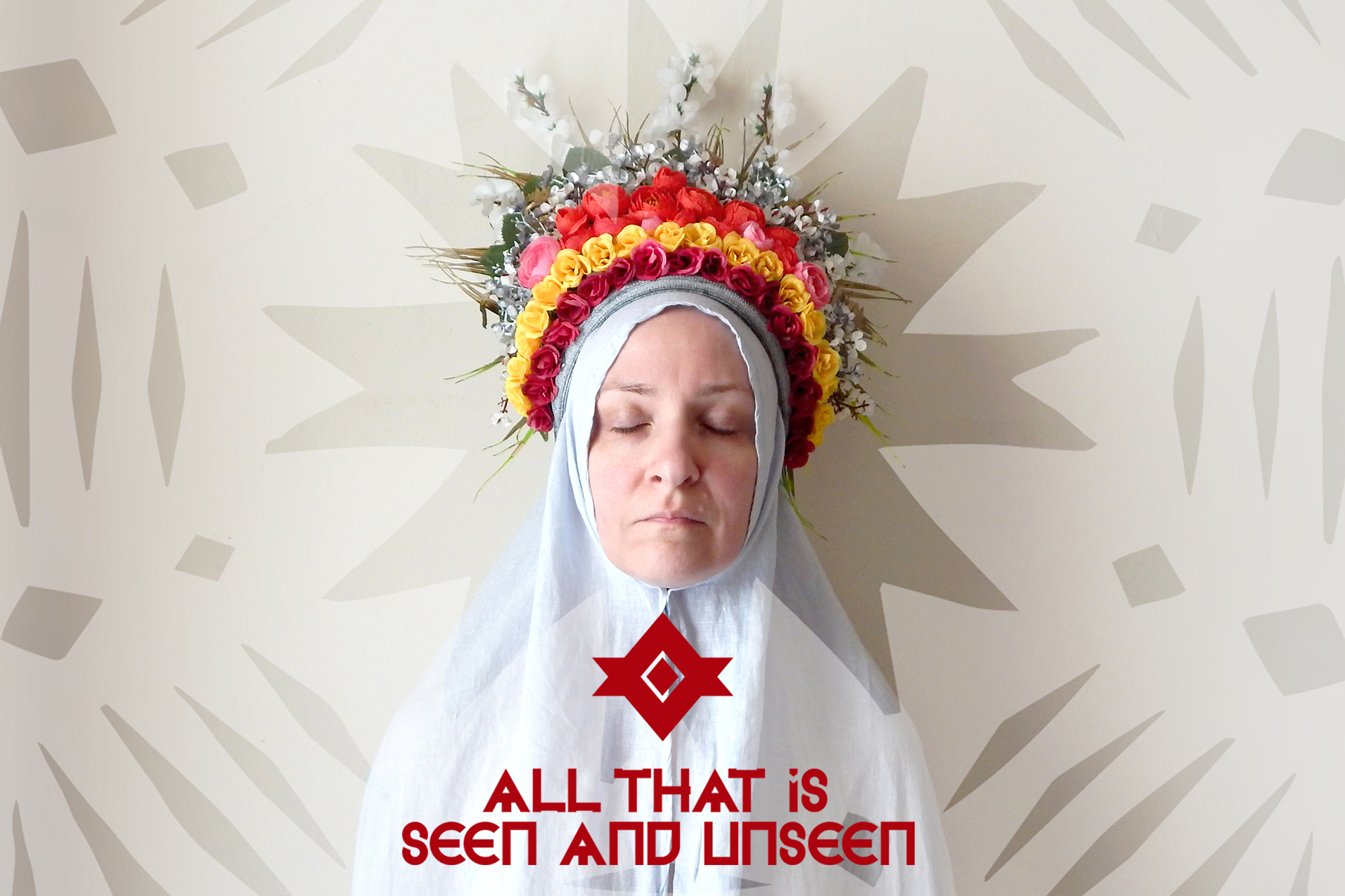 ALL THAT IS SEEN AND UNSEEN
"All That Is Seen And Unseen," a solo art exhibition by Amelia Marzec at Flux Factory on Governors Island, opens Saturday August 19, 2pm-5pm. The exhibition presents a collection of objects on the topic of a "queer technological Eastern European diaspora."

The installation includes: shrines that broadcast coming out stories over Family Radio Service; a typeface inspired by an AI's opinion of early Slavic writing systems; a sculpture that listens for military aircraft through a radio hidden in a folk art ceiling decoration; and digital photographs that depict the body in ritual garments from Pagan marriage and Catholic priesthood.

Software with imagery based on traditional papercuts, depicting women's bodies, weapons, and pre-Christian symbols, will be shown. It will also be projected on church buildings and institutional architecture during the run of the show, in conjunction with the Island Luminaria exhibition.

Additionally, a virtual reality piece will be presented at Harvestworks. It is a walking simulator filled with impotent paper-doll tanks.


Events from August 19-October 17, 2023

Exhibition Hours at Flux Factory: August 19-October 8, Saturdays and Sundays, noon-5pm

Opening at Flux Factory: Saturday, August 19th, 2-5pm, with an artist talk at 3pm

Projections on St. Cornelius Chapel, across from Flux Factory: Saturday, August 19th, 7-8pm

VR installation at Harvestworks: September 1-October 17, Fri, Sat, Sun 11am-5pm

Projections as part of the Flux Factory Island Luminaria parade: Sunday, September 3, 7:30-10pm

Papercutting workshop with RISE Rockaway: Saturday, September 23, 10am-1pm

Meet the Artist Day at Harvestworks: September 23, 2pm-5pm.

Closing party at Flux Factory: Saturday, September 30th, 12-5pm.

Additional pop-up projection evenings may or may not be announced.


Locations

Flux Factory on Governors Island
Colonels Row House 404A
New York, NY 10004
https://www.govisland.com/things-to-do/ongoing-programs/flux-factory

Harvestworks on Governors Island
Nolan Park Building 10A
New York, NY 10004
https://www.govisland.com/things-to-do/ongoing-programs/harvestworks

RISE Rockaway
Beach 60th Street & Rockaway Freeway, under the elevated A-train tracks
Far Rockaway, NY 11692
https://www.riserockaway.org/rise/