re-wired
2012
Re-wired is is a wearable device that translates ambient sound into haptic feedback using bone conduction technology.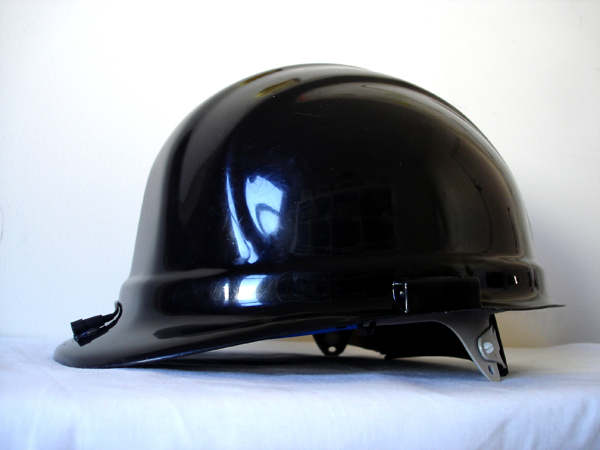 Description
I first became aware that experiencing sound through bone conduction was possible when I lost hearing in one ear due to a tumor (acoustic neuroma). One of the possible ways to "fix" monophonic hearing is to drill a screw into the skull and attach a receiver to it, such that sound waves are converted into vibrations in the skull.

Having an open wound just behind a non-functioning ear was not an ideal solution, so I let my body adjust to having one ear. At first my auditory perception seemed flat, but soon I began to notice that I was experiencing sound through a combination of tympanic hearing and vibrational resonance. One day as I sat down at the piano, I suddenly became aware that the entire instrument felt alive in my hands, each note traveling up my arms and giving a surprisingly rich experience of sound.

I decided to adapt bone conduction technology into a helmet, in order to share my emerging haptic perception of sound without the necessity of surgery. Re-wired consists of a helmet that leaves the wearer free to roam their environment and experience a physical sensitivity to sound. The helmet contains small, sensitive microphones, signal amplifiers, vibration components, and effects circuits. It adapts to any head shape. Dials to adjust the sound and volume are mounted on the side.

The project is participatory. I invite volunteers to explore the sounds of their environment through their skull, bypassing their ears. Hearing protection gear is provided to isolate the participant's haptic perception.

Video

Video from the Sound Research Summit

Process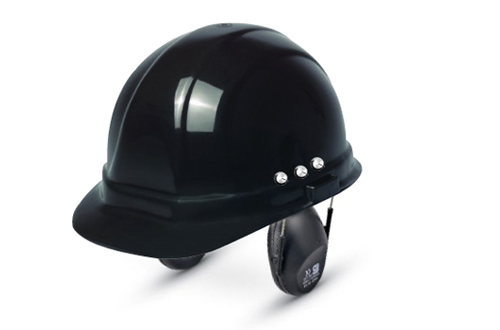 Re-wired sketch.
Re-wired diagram.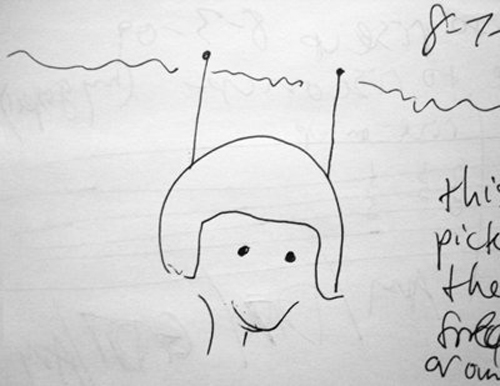 Original sketch of the project, August 2009, only a couple months after losing hearing.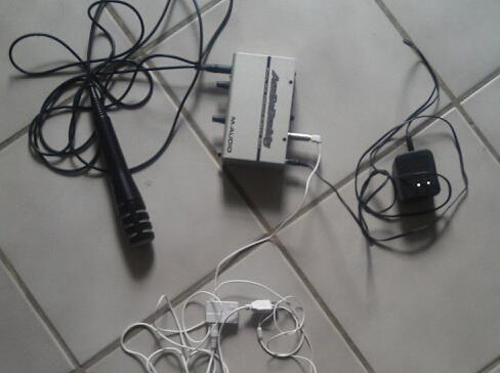 From the first working prototype. February 2012. After this I moved towards making it wireless and using smaller hardware.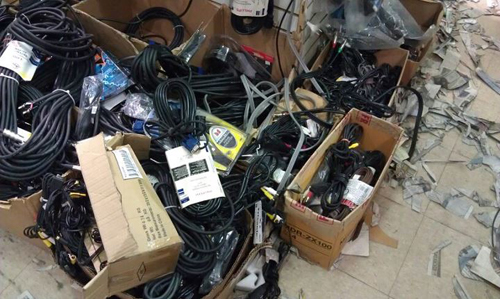 I found a glorious going-out-of-business sale in Manhattan where I bought some audio cables.
I first tested the hardware by integrating it into a hat, but it needed more structure.
I filled my pockets with amplifiers and went for a walk in Greenpoint to test it, before integrating the components into the helmet. The microphone was exposed so I ended up picking up a lot of wind and some muzak in Rite Aid. A very exciting trip. April 2012.
Having a conversation while adjusting the position of the microphone.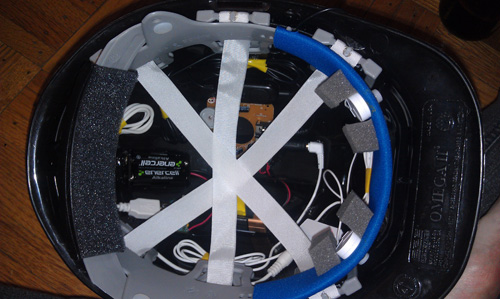 Gluey first prototype.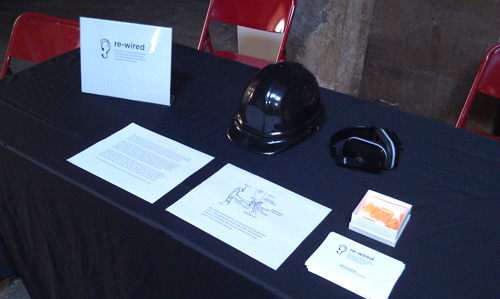 Demo table at Eyebeam. I bought 142 pairs of earplugs in a panic. I spent more time walking through the space with people listening than I did at the table.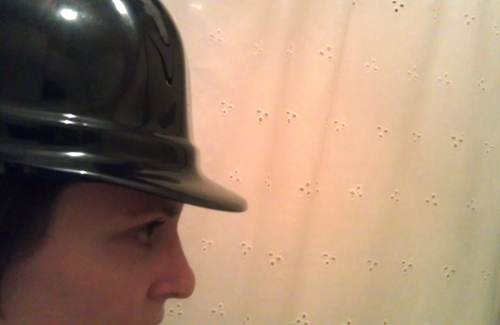 Trying on the helmet.
I opened a competing ear clinic outside of the New York Eye and Ear Infirmary, and started seeing patients. (Photo by Edwin Ramoran)

Re-wired costs less than ONE doctor's appointment.


Info
Demos and talks:
Fellowship Welcoming Party
, A.I.R. Gallery, May 7, 2013.
MEGAPOLIS Festival
, New School University, April 19-21, 2013.
NBC Design Summit
, at Times Square, April 12, 2013.
Life or Debt
, Judson Memorial Church, March 23, 2013.
Dorkbot NYC
, at Slader, January 2, 2013.
Guest speaker for Team Human Robot, at Game Innovation Lab, December 3, 2012.
Art in Odd Places
, at New York Eye and Ear Infirmary, October 5-15, 2012.
Open Hardware Summit
, Eyebeam Art + Technology Center, September 27th, 2012.
Hope Number 9
Hotel Pennsylvania, NYC, July 15, 2012.
May Day 2012: Mutual Aid
at Union Square Park, May 1, 2012.
Sound Research Summit
at Eyebeam Art and Technology Center, April 21, 2012.
Press:
"Undergrowth"
on Radiohive, April 23, 2013.
"Exploring Art in Odd Places 2012: Model"
by Allison Meier, in Hyperallergic, October 18th, 2012.
Front page of Reddit
, October 13th, 2012.
Photograph
by Brandon Stanton, in Humans of New York, October 10th, 2012.
"Re-Wired: translating the auditory experience"
in Haptic Interfaces, June 24th, 2012.
"Top 10 Health Innovations of the Week"
by Wesley Robison, in PSFK, June 2nd, 2012.
"DIY-Helmet Restores Sound To Hearing Impaired Patients"
by Allie Walker, in PSFK, May 23th, 2012.
"The Re-Wired Helmet Translates Sounds for Deaf Individuals"
by Meghan Young, in TrendHunter, April 28th, 2012.
"Re-Wired Helmet allows the deaf to 'hear' sounds as haptic sensations"
by Asmita Prasad, in Design Buzz, April 26th, 2012.
"Re-Wired Helmet Restores the Auditory Experience"
by Jose Gomez-Marquez, in Make, April 24th, 2012.